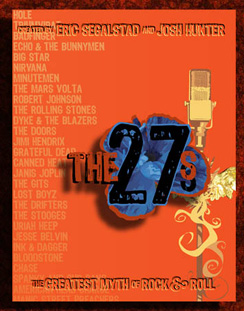 The 27's
Interview with Josh Hunter and Eric Segalstad
By Victoria Joyce
(SugarBuzz Hollywood)
SugarBuzz Magazine
Rock and Roll Heaven Roll Call

"Brian was the first truly significant rock star to die. His death prompted elegies from a few of his peers. Pete Townsend of The Who published a poem titled "Brian Jones, the man who died every day," and Jimi Hendrix dedicated "Lover Man" to him on the Tonight Show."

Hendrix did Carson? Yes! Some amazing facts come to light in this amazing new book, "The 27s: The Greatest Myth of Rock and Roll." Official release date is April 7th. From Samadhi Creations, Berkeley Lake, Georgia.

Laid out with bright, bold Anime-like graphics, portraits, illustrations, time-lines, factoids and sidebars, "The 27s" is a sleek and sophisticated graphic novel lovingly dedicated to everybody's favorite Gothic tale that started with Jimi, Janis and Jim. Beginning with a quote from Kurt Vonnegut (dry ice cool) and another quote from Kurt Cobain's mom, "I told him not to join that stupid club" you will be locked up tight fast.

The list of rockers who died at this notorious age is prolific, some more famous than others. "It's a morbid topic, but that's not how we looked at it." Early on, artist and author team; Eric Segalstad and Josh Hunter respectively, steered clear of the formulaic snapshot. Choosing instead a narrative that begins at those famous crossroads with Blues legend Robert Johnson and ends up in Mexico in a hail of bullets with Valentin Elizalde.

Visually exciting and very engaging, a "ticker" runs along the bottom of the pages highlighting significant dates in history; in 1865 John Wilkes Booth was 27 when he pulled the trigger and in 2008, Blogger Kevin Cogil is busted for Chinese Democracy posts on the internet. And guess how many candles were on his last birthday cake?

This Rock Epistle goes from cool to creepy and back to cool. "The 27s will never release a string of strung-out records, play sponsored reunion tours, or become world activists with White House meetings." This exclusive club is the real deal. Josh and Eric's research is meticulous. This book "tells the history of rock and roll." Josh goes on, "It was a bigger job not to put things in."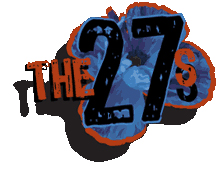 We love the maybe-baby's. Most famous is Gram Parsons who missed the mark by a few months. Marc Boland too. And did you know about White Stripes Jack White damn near died in a car wreck at 27? And that "Paul is dead" thing around the White Album? With the license plate of the car parked on Abbey Road? "28IF?" Seriously. Sir Paul died at 27.

What's that quote from "The Man Who Shot Liberty Valence?" "When the legend becomes fact, print the legend." Josh & Eric give you both in 300-something pages.

Josh Hunter met Eric Segalstad in Montana at a Farmer Market. Their love art and music led them these uncharted waters. "We couldn't believe this hadn't been done before." Eric is right. The phenom has been fictionalized and dramatized but never mapped out. Not like this. Three years later after those first beers in the bar they've got a book. Matching website too, of course.

"It's the history of Rock and Roll," Eric says, "We wanted to celebrate their lives." The tone of the book is magical and modern, a little sad but goes to the wealth of material these artists produced and applauds their passion. Josh and Eric dug deep with research and managed to connect these artists to each other and to us. It's very Six degrees of Kevin Bacon.

Towards the end of the long thread, connecting all the dead dots (34 of 'em), attention is turned to the ancients, superstition, religion, mathematics and geometry. "By the end of the book, we needed a narrator. Who better than Keith Richards." The caricature is adorable. Josh and Eric go to the dark side with a smile, healthy curiosity and a lot of way-cool research. The stuff about the Kabalah and the Catholic Church will kill ya.

Hey, hey. My, my.