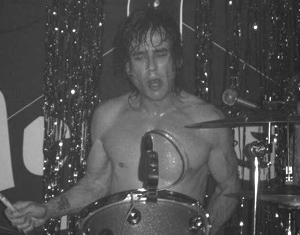 Ozzie
Gunfire Dance/Brian James Gang/Headhunters

By Kenney Silvers
(SugarBuzz NNC)
SugarBuzz Magazine
MY GUN CALLED JUSTICE......Kenney Silvers Interviews Ozzie From Gunfire Dance/Brian James Gang/Headhunters!

"A NEW HOPE, A NEW DREAM, A NEW CHAPTER IN MY LIFE, TO TELL THE FOLKS BACK HOME...."
Gunfire Dance drummer, Ozzie, is one of the primo arsenalist/showmen in the ever-dwindling, rock'n'roll-with-heart underground, and he's one of rock's great drummer personalities. He's also played, briefly, with Tyla from Dogs D'Amour, Steppin' Razors, and the resurrected Lords Of The New Church/Brian James Gang. Most recently, he's resurfaced in a killer band with Ray Birch from Gunfire Dance/Steppin' Razors, and Jez Miller from the Lords, called the Headhunters. Don't take my word for it, that GUNFIRE DANCE shoulda been huge rockstars, ask Jeff Dahl, Brijitte West, or the Sleazegrinder, summa their other more enthusiastic admirers. Buy their "ARCHWAY OF THORNS" C.D. retrospective at www.evilboyrecords.com and tell 'em SugarBuzz sent yas.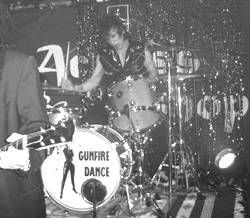 WHAT WAS YOUR FAMILY LIKE, & WHAT WERE YOUR INITIAL INTRODUCTIONS TO ROCK'N'ROLL?
Home life was very stable and also supportive. The first thing I heard that made me start to tap all the time was the Shadows. Neil Diamond was also very popular in our home. I suppose my first heros were early Motorhead.

FULL-BREACH RECORDS IS THIS NEW,REALLY HIP GLAM LABEL THAT JUST RELEASED A SOHO ROSES RETROSPECTIVE & AN OLD CLASSIC BY THE JONESES. WHAT DO YOU REMEMBER ABOUT SOHO ROSES? HAVE GUNFIRE DANCE CONSIDERED RELEASING A CONCERT DVD?

Great to hear Soho Roses gettin stuff out, I have very fond memories of that early London scene, and got to know Joolz and Patrice around this time. I'll keep you posted about Gunfire DVD stuff as we do have quite a bit of stuff knockin' around, and of course, it would be great to get it out there.

DESCRIBE EACH OF THE OTHER GUNFIRE DANCE MEMBERS....

Jeff is a pedantic, day dreaming, lovable cunt! Ray is obsesssed with all things rock n roll... Ant was the best listener and a very gentle soul (miss him loads!)

HOW WERE YOU AFFECTED BY PUNK ROCK & GLAM?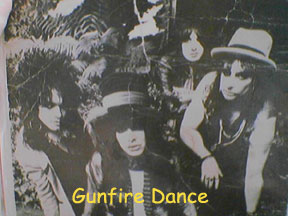 Punk and Trashy bands changed me forever, but I tend to back away from the term glam, as people might think i'm in to shit like Motley Crue.

WHAT ABOUT GOTH? DID ANY OF YOU GUYS GET INTO THE WHOLE DEATHROCK OLD BATCAVE SCENE?

Not so mad about the Batcave scene, although I did enjoy Flesh For LuLu and Bauhaus.

THEY HAD THE UNFORTUNATE DISTINCTION OF HAVING THEIR BANDNAME CADGED BY MICHAEL HUTCHENCE FOR AN INXS SONG TITLE, WHAT WERE SUICIDE BLONDE LIKE?

Suicide Blonde were our favourite band mates on the scene, but unfortunately, I think they would be the first to admit, that it wasn't really the scene for them.

WHATEVER BECAME OF BILLY G. BANG AND STEVE VON SAINT FROM KILL CITY DRAGONS? DID YOU EVER HEAR THAT SLUM LORDS RECORD?

God knows what happened to Billy G. Bang, but I saw Steve at the Dolls in London, and he's quite a successful business man these days.....Didn't hear the slum lords rekkid.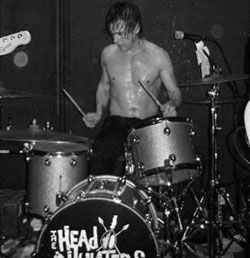 WERE YOU FRIENDLY WITH THEE HYPNOTICS?

We played with Thee Hypnotics a couple of times, but never really got to know 'em. Great band, though!

WHAT DO YOU REMEMBER ABOUT NYC,C.B.G.B.'s, PILLBOX, THE WALDOS, ETC.?
I loved NYC during this period, as it really reminded me of the early London, and Birmingham scenes. Met Rat Boy, who suggested we look up Jeff Dahl- (you know the rest) and got to play with the Waldos, which was great.

THE THROBS, OR D-GENERATION?

I got to say D-Generation, as the Throbs really aint my thing (Sorrry Danny x)
WHEN WAS THE FIRST TIME YOU EVER LAID EYES ON BRIJITTE WEST, & WERE YOU POSITIVELY SPELLBOUND?

Brijitte? What do you think!

SOME PEAK MOMENTS OF THE GUNFIRE DANCE ADVENTURE?

...Signing a deal/selling out the Marquee, and being stuck in a van with your best mates...

IMPRESSIONS OF TYLA?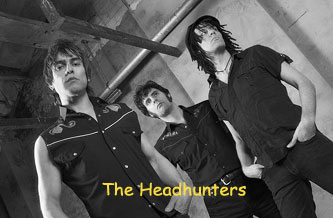 Arrogant...

CAN YOU GIVE ANY INSIGHT ON WHY THE WORLD LOST ANT? WERE THE REUNION SHOWS FUN?

The Ant thing is a little too deep and dark. I actually don't think his therapy helped, I would go as far as saying he ended up abusing himself even more, afterwards.

CARE TO COMMENT ON THE CURRENT INCARNATIONS OF HANOI & THE DOLLS?

I haven't followed Hanoi for years, so I couldn't really comment. I really enjoyed the Dolls, and would definitely see 'em again.

DO TELL-ALL ABOUT THE LORDS-WHO WAS IN THE BAND? WERE YOU ON THE LP? (I NEVER HEARD IT-WAS IT GOOD?) WHAT CAN YOU TELL ME ABOUT BRIAN JAMES? IS HE FUN TO WORK WITH?

I look upon the Lords tour more fondly now, but at the time, was quite pissed off, and embarrassed at having to share a stage with Steven Marque. I still, to this day, have no idea what was going on in Brian's mind. I never heard the album, either. Brian is very hard work to play with, but you gotta love his playing.

HOW DO YOU RATE GINGER FROM THE WILDHEARTS? LIKE HIS STUFF?

Not into the Wild Hearts kind of scene.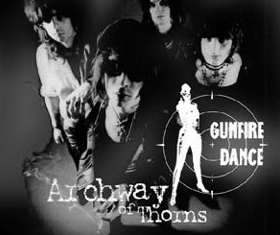 EVER SEE DAVE KUSWORTH & THE TENDERHOOKS?

I've seen Dave, but not with the Tenderhooks.

SUMMA MY FAVORITE DRUMMERS-RAZZLE, NOLAN, NICK TURNER, DIMWIT, BUN E. CARLOS, WATTS, MARTIN CHAMBERS, CLEM BURKE, YOU, WHOEVER PLAYED ON LOVE BY THE CULT--I THINK HIS NAME WAS NIGEL. WHO ARE YOUR FAVES?

You missed out Philthy Animal and Rat Scabies!!

WHAT CAN YOU TELL ME ABOUT TRANSYSTEM V, WILD AT HEART, AND JIM JONES REVUE?

I'm hearing great things about the Jim Jones Review and would like to get them to play Birmingham.

ARE YOU GUYS CURRENTLY PART OF AN ACTIVE CLUBSCENE?

Kind of, buts it's very underground in Birmingham.

WHAT DO YOU DO TO PAY BILLS?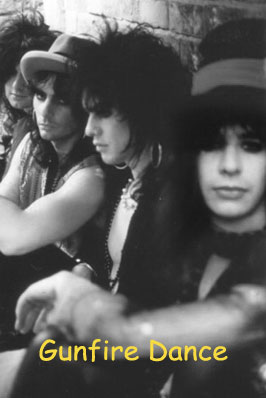 I tour manage occasionally, and also work as a stage hand.

CURRENT FAVORITE BANDS?

-Stuck in a time warp. Thats a question for Ray.

EVER SEE CHEAP N NASTY? MAD JUANA?

Did a small tour with Cheap n Nasty, and thought they were a good band.

WERE YOU A JACOBITES FAN? THESE IMMORTAL SOULS? NICK CAVE? ANY OF THAT?

I got to admit, I like my rock n roll very raucous, although I do like some Nick Cave stuff.

HOW DID YOU FEEL ABOUT THE MANICS? WERE THEY BIG WHERE YOU LIVE?

The Manics are huge in the UK. Exciting at first, but it soon wore thin, and went very mainstream.

WHERE CAN I GET A GUNFIRE DANCE T-SHIRT?

-Hope to get some printed soon, and you'll be first on the list.

DID YOU EVER SEE ANY OF RAY ZELL'S BANDS? WHAT WERE THEY LIKE?

Didn't get to see Rays bands, but we did get an interview, which was a lot of fun. And he got the Beers in!

WHAT DO YOU REMEMBER ABOUT CRYBABIES, RICH RAGS, INDIAN ANGEL, LAST OF THE TEENAGE IDOLS?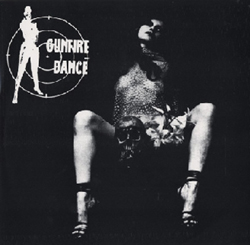 We did play with all of 'em, but to be honest, most of these bands didn't stick around very long.

HAVE YOU SEEN ANDY McCOYS TV SHOW, "THE McCOYS"?

--Again, not really up on the Hanoi thing.

IF THE HEADHUNTERS TOUR AMERICA, MAYBE YOU SHOULD CONSIDER THE WEST COAST, SINCE MANHATTAN MOVED TO BROOKLYN, NY ROCK JUST AIN'T THE SAME. CALIFORNIA STILL HAS MOTORCYCLE BOY, TEENAGE FRAMES, ACETATE RECORDS, HANGMEN, TEXACALA JONES, BAM & SHARE'S TV SHOW, SLOW MOTORCADE, THE DRAKE BROTHERS, INGER LORRE, ETC. ---BUT WHO CAN AFFORD TO TOUR, ANYWAY?

You said it!

HAVE YOU HEARD THE SLEAZEGRINDER CLASSIC ROCK COMPILATION?

-I have, and without meaning to sound arrogant, I think "Blue" is a real stand-out track.

HAVE YOU HEARD THROBBING PURPLE FROM CANADA, YET?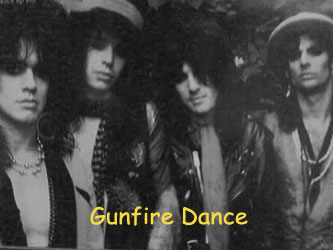 No

ARE YOU AN IAN HUNTER FAN & HAVE YOU HEARD HIS NEW ALBUM?

I am, and I haven't...

WHAT DID I FORGET TO ASK YOU ABOUT?

You did pretty good, I think...

WILL YOU GIVE ME ONE WORD TO DESCRIBE EACH OF THE FOLLOWING?

OZZY OSBOURNE-Pitiful
DURAN DURAN-Annoying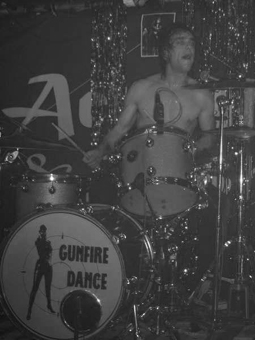 BUBBLEGUM SLUT FANZINE-Cool
DARREN STOCKFORD-Who?
KRIS DOLLIMORE-Wicked
BOZ BOORER-Who?
THE ALMIGHTY-Rock
CONNY BLOOM-No
ADAM ANT-Original
GEORGE W. BUSH-Idiot
BEASTS OF BOURBON-Cool
JARVIS COCKER-Funny
NOEL GALLAGHER-Deluded!

I'm fucking knackered!!!!!!!!!!!

(-Kenney Silvers really digs Gunfire Dance, and you will, too, if you like real rock'n'roll!)

www.myspace.com/theheadhuntersrocknroll