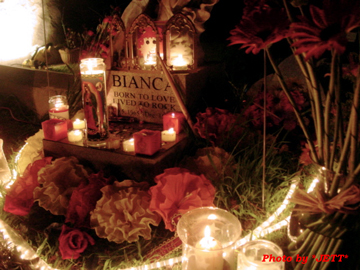 Betty Blowtorch and Her Amazing True Life Adventures
DVD Release

Hollywood Forever Cemetery
Los Angeles, CA

April 22, 2006
By Lynda
(SugarBuzz Atlanta)
Photos by *Jett*
The last few months have been spent in anticipation for the DVD release event for Anthony Scarpa's "Betty Blowtorch and Her Amazing True Life Adventures". Not only was I excited to be seeing the expanded director's cut, but I was excited to be seeing my friends and acquaintances in the "Betty camp" again.

The concept of showing movies in a cemetery is foreign to me, but Hollywood Forever (Betty's lead singer Bianca Halstead's resting place) is a beautiful place, so I was interested to see this idea at work. My friend, photographer Jett, and I showed up early so I could assist in any way possible. Unfortunately, I only wound up offering my assistance instead of actually doing anything pertinent.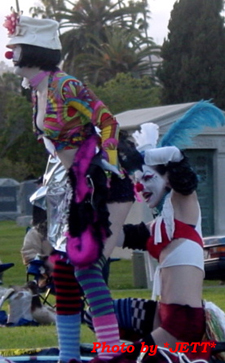 Entrance fee was $10, and proceeds went to MusiCares MAP Fund. The gate opened at 8:00 PM, and the once barren field quickly became littered with people of all ages, from all walks of life. The bulk of the crowd, however- and "of course"- consisted of tattooed rockers of all genres, their families, friends, and even a few unexpected, but highly appreciated "punk clowns".
The three surviving members of Betty Blowtorch- Blare N. Bitch, Sharon Needles, and Judy Molish- were in ttendance. Coyote Shivers, Tamie Downe (Faster Pussycat), and several other known rockstar faces were spotted. Foodchain Records (Betty Blowtorch, Supagroup) senior director of A&R (and all-around phenomenal woman, without whom much in the Betty "field" would have been done/possible) Kelly Spencer and the label's owner Scott Milano were accounted for. The UV's lead singer Mia X was not only on-hand, but was a real trooper to take over merch-selling duties (a job I could/should have jumped in to relieve her from, but didn't-I'm so sorry, Mia). Bianca's stepsister Vickie and her kids were there, and even (as believed by so many) Bianca herself was present.

The event went off without a hitch, and began at around 9:30 with two introductions. One was given by the film's director Anthony Scarpa, and one by a stilt walker beauty. Immediately following suit, several fire breathers, stilt walkers and other fire performers pumped up the crowd by showing off their talents, while Betty Blowtorch's anthem echoed throughout the cemetery. The end of the song/performance was cue for the movie to begin. Betty Boop's cute, sexy, and sassy black & white image filled the side of the 3 (?) story building. It became an usher of sorts as people began to scramble back to their blankets and chairs and settle in.

The next two hours of the icy night were spent in a flurry of emotions, which ranged from pride and happiness to heart-breaking sorrow.

"Betty Blowtorch and Her Amazing True Life Adventures", for those who do not know, is a film which documents the legacy of the incomparable all-female rock band Betty Blowtorch. The movie is filled with live performance, TV appearance, news, and studio footage, along with interviews with the band, their family, and friends. The result is a rock & roll documentary masterpiece that serves multiple purposes: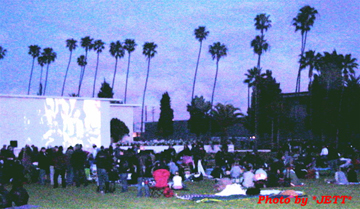 as a collection of visual memories for those involved

as exposure to life inside the Betty camp away from home

as a chronological diary of the history, rise, and demise of Betty Blowtorch

and as a bible for all Betty Blowtorch fans.

I must admit, the newer and longer edit of the film felt a little less one-sided in parts, and even better explained certain vital situations. The only fact that I wish had been stated in the movie (about the returning of the trailer) is at least brought up on the DVD commentary. It's my personal belief, based on what I've read and have been told, that the extended cut of "Betty Blowtorch and Her Amazing True Life Adventures" "just about covers it". I truly feel that this lets us in on everything we need to know...and sometimes more.

Interest was sparked back in 2003 after the world premiere screening at the Arc Light: What would non-Betty Blowtorch fans think? Well, now I had the chance to ask, as Jett (my partner-in-crime for the night) was a fan by association (with me). She said it was great and she learned a lot. She said it was was good to actually see into the life and get a better understanding of this band that means so much to me. I was curious as to if it all made sense to an "outsider"-if anything was confusing. She said she understood everything, and even proved it by throwing facts back at me (which also made me smile inside that she cared that much).

After the movie, Anthony Scarpa and the Betty Blowtorch girls gathered in the center of a huddle of people and gave thanks to everyone for everything over the years. Some kind words were exchanged, and hugs were given. They posed for photo's, and people were crying. In a way, it felt like "closure". It felt as though the story of Betty Blowtorch ended there that night. But anyone who has been touched by this band and their legacy will tell you that just because it has ended, it doesn't mean it's over. For as long as the sun burns, so will the flame of the Torch.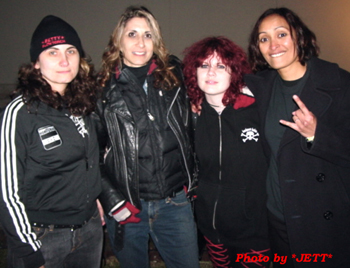 Can't find the DVD in your store? Ask them to order it. DVD info:

Cinema Libre Distribution

UPC # 881394101128

ISBN # 1-59587-043-1
(Bottom Photo L to R) Judy Molish (drums), Blaire Bitch (Lead Guitar), Lynda Davis (SugarBuzz Atlanta & Rock n' Roll Goddess), Sharon Needles (Guitar)